SRS Stonecast Investment Powder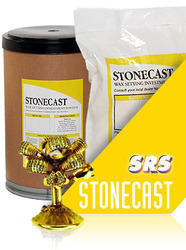 SRS Stonecast Investment Powder
Product Description
STONECAST is a special application investment powder and has been developed specifically by SRS for stone casting or wax setting. Using STONECAST the Jewellery caster can set diamonds in the wax before casting rather than in the metal afterwards thus improving productivity. STONECAST has the following features:
STONECAST offers the following benefits to the jewellery caster:
Preblended investment powder for stone casting - no need to make additions
Provides heat shield for diamonds up to mould temperature of 630C
Setting time adjusted to give enough time for mixing and vacuuming without rushing
Fluid slurry and flash setting to improve strength of moulds
Improved surface finish for all metals including 24K Gold
For full instruction on how to use STONECAST please refer to the mixing and burnout instructions found in every bag or drum.
Technical Information - STONECAST
| | |
| --- | --- |
| Powder/water ratio | 38% |
| Work time @ 22C | 8 - 9 minutes |
| Initial set time | 10 - 12 minutes |
| Thermal expansion @ 750C | 0.73% |
| Setting expansion 2 hours | 0.45% |
| Volume Yield per kg powder | 795ml |