SRS Steelcast Investment Powder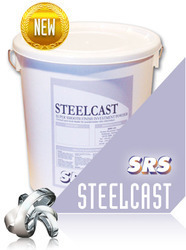 SRS Steelcast Investment Powder
Product Description
Steelcast is a one part phosphate bonded investment powder for casting stainless steel and other ferrous metals.

It has been specially formulated for jewellery applications and will give excellent surface finish and the fine detail required.

Steelcast can be used in conjunction with SRS stainless jewellery alloy to give improved fluidity and surface finish.
Steelcast is easy to use- no acids or special liquids - just add water and mix
Steelcast can be used up to flask temperature of 1000C and metal temperature of 1600C
Steelcast gives excellent surface finish and fine detail in hot operating conditions
Steelcast uses quality controlled raw materials from our own quarry graded especially for lost wax casting
Steelcast is extremely refractory and is not degraded by the high metal temperatures
Steelcast is easy to clean off after casting
Steelcast reduces time spent on finishing after casting
Steelcast is available in a 25kg re-sealable container
For full instruction on how to use STEELCAST please refer to the mixing and burnout instructions found in every bag or drum.
Technical Information - STEELCAST
| | |
| --- | --- |
| Powder:water ratio | 100:32 |
| Work time | 6-7 minutes |
| Initial set time | 10 - 12 minutes |
| Thermal expansion @ 900C | 0.85% |
| Setting expansion 2 hours | 0.4% |
| Volume Yield per kg powder | 795ml |
Contact Us
B/3, Girikunj Indstrial Estate, Near Paper Box, Off. Mahakali Caves Road, Andheri (East),, Mumbai, Maharashtra, 400093, India
Phone :42724050/42724065/42724061/42724057/56087821