SRS Classic Investment Powder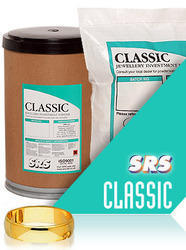 SRS Classic Investment Powder
Product Description
CLASSIC is the result of years of Research and Development by SRS and represents the finest quality investment powder currently available. CLASSIC uses the highest quality specially graded raw materials all checked against specification by the SRS QC laboratory. It is ideal for casting in 18K and 22K gold.
CLASSIC offers the following benefits to the jewellery caster:
High purity raw materials graded especially for jewellery lost wax casting
Increased refractoriness gives better thermal shock resistance during burnout and casting
More user friendly able to perform in a wider set of parameters
Suitable for all metals especially 18K gold or fine filigree work
Smoother surface finish - less polishing required
Includes all wetting and debubbling agents - no need to add before mixing
Smooth creamy consistency during mixing and pouring
CLASSIC is easy to break our after casting
For full instruction on how to use CLASSIC please refer to the mixing and burnout instructions found in every bag or drum.
Technical Information - CLASSIC
| | |
| --- | --- |
| Powder/water ratio | 38% |
| Work time @ 22C | 8 - 9 minutes |
| Initial set time | 10 - 12 minutes |
| Thermal expansion @ 750C | 0.73% |
| Setting expansion 2 hours | 0.45% |
| Volume Yield per kg powder | 795ml |