Elettrolaser Laser Welder Mega 200J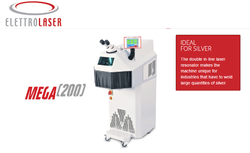 Elettrolaser Laser Welder Mega 200J
Product Description
The machine was developed mainly for industrial applications and factories working with precious metals and is equipped with double in-line resonator that enables it to achieve an output of 200 J of effective energy!
Designed for intensive use, it can be equipped with an external chiller, or one that is integrated in the base, which can be supplied as an option.
It is also equipped with a large welding chamber and a steel structure that offers the greatest flexibility in the industrial field as regards possible customizations (such as bottom opening of the welding chamber), and as regards the sizes of the objects that can be welded.
For industrial applications, it can be equipped with a motor-driven platform integrated in the welding chamber for the movement of dies of small/medium size.
It is also equipped with a touch screen display in color, ergonomically positioned, and a webcam with which it is possible to see what is being welded inside the chamber, thanks to the external interface with any PC.
| | |
| --- | --- |
| | MEGA 200 |
| Laser source and wavelength | Nd: YAG 1064 nm |
| Average power | 150 W |
| Peak power | 15 kW |
| Energy | 0,1 200 J |
| Impulse time | 0,1 20 ms |
| Pulse frequency | 0,5 40 Hz |
| Spot diameter | 0,2 2,0 mm |
| Spot setting | Motorized, 30 positions |
| Programs | Pulse Shaping 6 preset |
| Memories cell stored | 100 |
| Internal control | Joystick |
| External control | 7' Color Touch Screen |
| Input power | 230 V AC, 50/60 Hz, single phase |
| Ampere | 16 A |
| Max dimensions [wxdxh] | 50x50x120 cm |
| Weight | 90 kg |
| Type | Pedestal |
| Argon / Air nozzle | Yes / Yes |
| Wi-Fi | On request |
| Integrated camera | On request |