Elettrolaser Laser Welder Mega 140J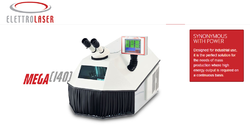 Elettrolaser Laser Welder Mega 140J
Product Description
Equipped with a large welding chamber and structure in steel, Mega 140 is the laser that offers the greatest flexibility in the industrial field as regards both power and size of the objects it can weld.
It is equipped with a cooling system reinforced with a 5 liter tank that permits intensive use even under extreme environmental conditions.
It is also equipped with a touch screen display in color, positionable ergonomically, and a webcam with which it is possible to see what is being welded inside the chamber, thanks to the external interface with any PC.
It can be supplied with outputs from 60 J to 140 J and an optional three-dimensional optical visor like the one found on the Master 3D can be installed.


| | |
| --- | --- |
| | MEGA 140 |
| Laser source and wavelength | Nd: YAG 1064 nm |
| Average power | 100 W |
| Peak power | 7 kW |
| Energy | 0,1 140 J |
| Impulse time | 0,1 20 ms |
| Pulse frequency | 0,5 30 Hz |
| Spot diameter | 0,2 2,0 mm |
| Spot setting | Motorized, 30 positions |
| Programs | Pulse Shaping 6 preset |
| Memories cell stored | 100 |
| Internal control | Joystick |
| External control | 7' Color Touch Screen |
| Input power | 230 V AC, 50/60 Hz, single phase |
| Ampere | 10 A |
| Max dimensions [wxdxh] | 50x50x80 cm |
| Weight | 55 kg |
| Type | Desktop |
| Argon / Air nozzle | Yes / Yes |