Elettrolaser Laser Welder Master 100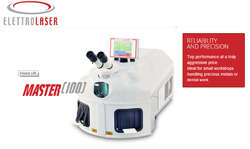 Elettrolaser Laser Welder Master 100
Product Description
It is a small laser for welding with a sinuous, attractive design, offering high performance and low consumption with practically no maintenance.
Though it is a very compact machine, it contains a powerful cooling system and is equipped with a readily accessible welding chamber for easy inspection thanks to the front hatches.
Cold led light ensures the maximum sharpness of the welding as well as lesser visual fatigue.
It is also equipped with a touch screen display in color, ergonomically positioned, and a webcam with which it is possible to see what is being welded inside the chamber, thanks to the external interface with any PC.
The new digital system permits greater simplicity and flexibility of use, with continuous control of the power absorbed by the network, and monitoring of the internal temperature of the machine so as to optimize consumption under any operating conditions.
Stability is 5 times higher than the standard thanks to the new ElettroLaser "laser slide"!
| | |
| --- | --- |
| | MASTER 100 |
| Laser source and wavelength | Nd: YAG 1064 nm |
| Average power | 75 W |
| Peak power | 5 kW |
| Energy | 0,1 100 J |
| Impulse time | 0,1 20 ms |
| Pulse frequency | 0,5 30 Hz |
| Spot diameter | 0,2 2,0 mm |
| Spot setting | Motorized, 30 positions |
| Programs | Pulse Shaping 6 preset |
| Memories cell stored | 100 |
| Internal control | Joystick |
| External control | Color Touch Screen |
| Input power | 230 V AC, 50/60 Hz, single phase |
| Ampere | 10 A |
| Max dimensions [wxdxh] | 35x45x63 cm |
| Weight | 33 kg |
| Type | Desktop |
| Argon / Air nozzle | Yes / Yes |
| Microscope type | Leica binoculars 10x |